The Lifestyle Commercial Gas Patio Heater is perfect for any large garden or commercial situation. Finished in lacquered stainless steel with a large 14kW burner, the Commercial Patio Heater will give great performance over a long period of time.
The large reflector will give great warmth whilst the variable control will give you the ability to turn the heat down when needed.
The Lifestyle Commercial Heater features a handy table which is situated at the top of the cylinder enclosure making it great for those social occasions.
Other features include, castor wheels for easy movement, as well as a lockable cylinder enclosure to avoid any tampering with the gas cylinder.
The burner stem on the Commercial Heater will retract when the heater is not in use. This makes it very easy to store or transport the heater.
The Lifestyle Commercial Patio Heater really is perfect for events, pubs, restaurants, or any domestic garden where regular entertaing is what you enjoy!
---
Features

14kW Variable Gas Burner
Table included
Wheels for easy movement
Retractable Burner for easy storage and transportation
Lockable cylinder enclosure
Finished in lacquered stainless steel
Large heat reflector
Electronic ignition (battery)
Gas Hose and regulator included
---
Runs Off
Up to 13kg Propane - Patio Gas (Green Cylinder)
---
Safety Features
Flame Failure Device - Gas will shut off should the flame blow out for any reason
Anti-Tilt Device - Gas will shut off should the heater be knocked over
---
Dimensions
Height : 2.3m
Diameter: 88cm (reflector)
Weight ; 29kg
---
Included in pack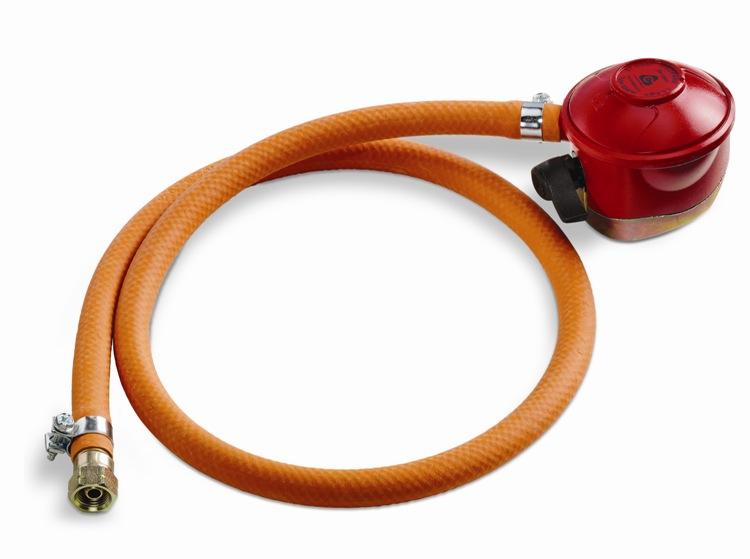 Gas Hose & Regulator
---

Delivery
Delivery for this product is Free to UK Mainland and Lowland Scotland. We aim to dispatch items on day of purchase, using an over night courier service. Please note: Next day deliveries can not always be guaranteed. A dispatch email will be sent letting you know which date your item will be delivered on. You can change this date by leaving a comment on the purchase page, or by Contacting us via email at enquiries@thegascentre.co.uk or by telephone on 01483 760750.
Areas outside UK Mainland and Lowland Scotland: We will deliver to Scottish Highlands, N. Ireland, Channel Islands and most of Europe. Small delivery charges may apply. Please Contact us at enquiries@thegascentre.co.uk for prices and delivery times. Deliveries should not take longer than 2-4 business days. For more information please see Delivery Policy.
Customer Comments
We value all of our customers, and our aim is to provide great customer service, both during and after purchase. If you are happy with our products and service please leave a short review. We would be very grateful. Leave Review - See what others say.