Broil King Vertical Charcoal Smoker - Local Area - Pre Assembled
Broil King Vertical Charcoal Smoker - Local Area - Pre Assembled
| | |
| --- | --- |
| Brand: | Broil King |
| Product Code: | Vertical Charcoal Smoker |
| Availability: | In Stock |
0 reviews
Write a review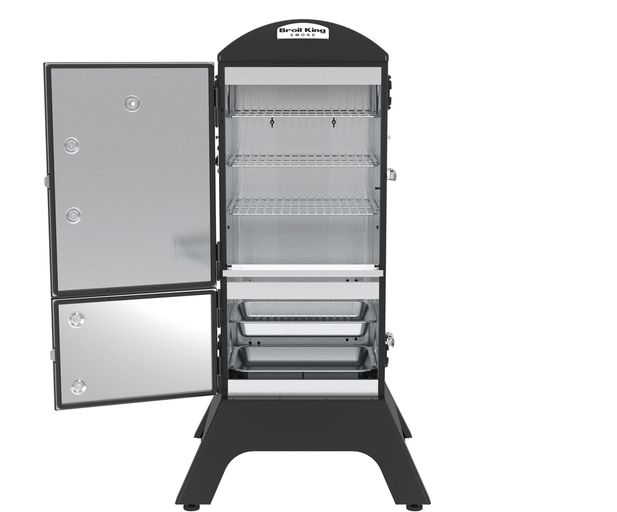 Broil King Vertical Charcoal Smoker - Local Area - Pre Assembled

Here at The Gas Centre we are proud to present the Broil King Vertical Charcoal Smoker. This Smoke Cabinet is the charcoal version and is engineered to create mouth-watering authentic smokey flavour. The sheer amount of features makes the Broil King Smoke Cabinet speak for itself. Manufactured to the high quality Broil King standard and packed with features, this upright smoker will give stylish accents to exceptional cooking versatility at any event. Including heavy duty cast aluminium Roto-Draft dampers and 4968sq cm cooking space the Broil King Vertical Charcoal Smoker . The Broil King Smoke is bound to impress with ease as it is not only reliable in it's build but also extremely stylish in it's sleek black finish. This BBQ would be welcome in any charcoal BBQ chef's event.

---
Features

Heavy duty charcoal tray
4968sq cm total cooking space
.1 cubic meters total cooking capacity
4 adjustable stainless steel cooking grids
Adjustable multi-purpose rib/roast rack
Adjustable Roto-Draft cast aluminium damper system
Door mounted Accu-Temp thermometer
Extra large stainless steel water pan and smoker tray
16 stainless steel meat hooks
4 sturdy tool hooks
Convenient bottle opener
2 heavy-duty door handles
2 rugged steel doors with gasket and premium latch system
4 levelling feet with 2 rear easy-move wheels
Double-walled steel construction
Premium epoxy high heat paint


---
Dimensions

Height: 123cm
Width: 46.7cm
Depth: 56cm


---
Purchase with Confidence
At The Gas Centre Online Store we are happy to advise on any of our BBQ range. Our staff are trained on all of our products. Our staff are always happy to help with any questions you may have. We have a highly trained engineering team with a practical knowledge of our BBQ range. If you are unsure on any of our products please do not hesitate to contact us on 01483 760750. We are happy to help.
---
Warranty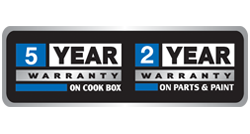 ---
Delivery
Our delivery team will be in contact once the order has been processed and we will schedule a delivery time with you. Delivery times are 3-5 days, however this cannot always be guarenteed and any issues you will be made aware of. Delivery days are Monday-Friday, 9am-5pm. If you have a specific request for a time or day, please either note this in the comments section when you check out, email us here at enquiries@thegascentre.co.uk or ring us on 01483 760750. We will try our best to get the most suitable time/date for you. This package is only available for delivery in the London or Surrey areas. If you are unsure of whether you are in our locality, please give us a ring or click here to check if your postcode is on our list. Our delivery team are fully trained to answer any questions you may have about setting up and using this product. Please note that the driver will not carry any change or any card machine so payments must be either made before delivery or specified to be cash on delivery.

Customer Comments

We value all of our customers, and our aim is to provide great customer service, both during and after purchase. If you are happy with our products and service please leave a short review. We would be very grateful. Leave Review - See what others say.